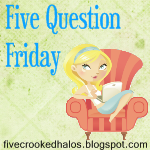 Rules for Five Question Friday: Copy and paste the following questions to your blog post, answer them, then c'mon back to link up! I would be thrilled if you'd link back to me,
Mama M.
, in your post!
If you don't have a blog, but think the questions are pretty fun and want to join in, feel free to leave your answers in the comments of this blog or any blog along the blog hop path!
Questions for Friday, June 18th:


1.
What is your favorite thing about summertime?



The late nights, where the sun is still up past 9pm, those kind of late nights. Where you can sit in your yard chair and relax in the yard as the kids play. Love the 4th of July also, LOVE fireworks & BBQ's!



2. What is your ideal retirement location (if money didn't matter)?



Someplace warm! lol I don't know honestly I've never really thought about it.



3. Do you live in the same town you grew up in?



Yes, I've lived here since I was 5



4. What nervous habit did you have as a child that you kicked to the curb before becoming an adult?



You're supposed to kick them to the curb?! lol I'm a naturally nervous (& shy) person so I still tend to have some of those habits, though I've recently stopped chewing my nails...not just trying my best to get them to grow and keep them nice.



5.
What is the most embarrassing thing that happened to you while on the job?



Oh, OH! I've got it! I was all of about 16 and working my first job at a local Phar-Mor in the video department, it was I think a Saturday night and I'd let my boyfriend use my car while I was at work. Well apparently my father was waiting for him in the parking lot or something...but as I'm waiting on customers I see my dad stomping up to the counter, and he proceeds to chew my ass about it as all these customers are standing there waiting to check out! I was so embarrassed and about started to cry! Needless to say my boyfriend didn't borrow my car after that! lol



For more Five Question Friday Visit Five Crooked Halos