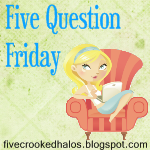 Questions for Friday, June 24
th
:
1. W
hat is your current favorite tv show?
Right now I'm really into watching In Plain Sight, love Mary McCormick & the wittiness of her character! I also like Covert Affairs
2. W
hat's the worst haircut you ever got?
A total boy cut, I see the pictures of it now (and thankfully can't find any to post) and I just think WTH was my mom thinking?!
3.
What was something that you did as a child that you thought you were so cool for doing?
That would be wearing leg warmers, jelly shoes and slap bracelets
4. D
o you have any GREAT frugal family fun tips?
Doing crafts from reusable materials is always fun. Interesting to see what you can come up with.
5.
Would you drive across country if you had the money to fly?
Yes, I would prefer to see everything along the way as long as I also had the time to do so! :)