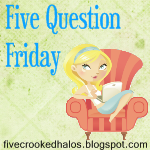 Rules for 5
QF
: Easy as pie!! For real...easiest blog hop around! Just copy and paste the following questions to your blog post, answer them,
and link your post up! If you don't have a blog (or already wrote a post), but still wanna join in...just leave your answers in the comments below!
Remember...I always leave the
linky
open until Sunday night!
Questions for Friday, October 8
th
:
Wanna be linked in a future 5
QF
? If so
c'mon
over and offer up your best question
suggestions
!!)
1.
What do you listen to while driving?

Radio stations, nothing special. I want to get an ipod player so I can listen to that, but honestly I'm not in my van for very long periods of time so it would almost be more of a hassle! lol
2.
What is your least favorite thing about Fall?

Fall is my favorite season, but I am not thrilled with the season following! Here in SD we tend to get rough winters!
3.
What does your dream house look like, inside and out?

Outside I want it to look like a big old home from I think the early 1900's. Not that I actually want it FROM the 1900's, but just to have that look to it. I'd love to be out of town, on a small farm. Grand in size, who doesn't want a big house? Well maybe those who are done raising the kids? lol Anyway, big enough to hold all of us comfortably and each have their own rooms would be a dream! A beautiful grand master suite w/master bath with a nice big garden style tub. I'd love a grand staircase and a HUGE kitchen, nice separate dining room with built in hutch. Living room and family room since we are 2 families in one. I want a nice big garage for the hubby and a separate building for my 'dream' photography studio! Oh, my I didn't think I'd come up with much for this one! hahahaa
4.
Would you ever own a minivan?

Um yeah, made that move 4yrs ago! :)
5.
Do you wash new clothes before wearing them?

Yes and no, I've seen alot of things lately saying how dangerous it can be not to so I've started doing it now. It's hard to say if any of that is true or not but why not be safe right?!



For more 5Q Friday Visit My Little Life


Happy Friday!